Dr. Derek Finger
Dr. Derek Finger has been helping patients for more than 20 years. He brings a wealth of clinical experience to provide the best possible chiropractor services in Pensacola FL. His experience gives him a keen level of understanding to the common causes of pain, and gives him the insight needed to help bring about the best possible recovery for each of his patients.
A word from Dr. Derek Finger: "My goal is to deliver the most efficient treatment in a cost-effective and timely manor. Patients in my office are more than just "patients" and you will not feel rushed during your appointments.
Additional insight on Dr. Finger – He acquired his chiropractic education from Life Chiropractic College where he earned his degree as a Doctor of Chiropractic Medicine. Once earning his degree, he began his first Pensacola FL chiropractor clinic in 1991. With his strong education, good morals, easy-going personality, husband and father of two, makes him very easy and comfortable to work with.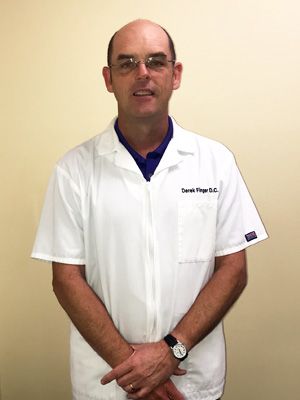 Quality Chiropractic Care Comes from a Caring & Experienced Staff
We believe that it is of the utmost importance that each patient feel comfortable with anyone they encounter during their visits to our Pensacola FL chiropractor office. With that being the case, we guarantee that you will be treated with kindness, respect and with careful attention to your specific medical needs. Our staff are highly experienced and are always eager to welcome both new and returning patients.
If you need a chiropractor in Pensacola FL, feel free to contact our office. They will happily schedule an appointment for you to get treatment from Dr. Derek Finger.